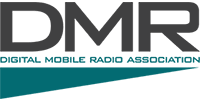 Cross Roads Ham Radio Club operates a DMR repeater in Edna (Jackson County), TX.
Our DMR repeater operates on 444.050 MHz with a Color Code of 7.
OK, great. So what exactly is DMR?
DMR stands for Digital Mobile Radio. DMR is an open standard created to make an inexpensive digital radio system that was simple to operate and which would allow different radio manufacturers to develop interoperable radios. While some radio manufacturers have proprietary digital modes that only work within their own brand (D-Star, Fusion, C4FM) any brand of DMR radio is capable of communicating with a different brand of DMR radio. DMR users are able to communicate with other DMR users worldwide.
Understanding DMR requires learning a few new terms.
DMR ID:
To use a DMR radio, you will need to get DMR ID which is a unique identification number assigned to you and your call sign. Your DMR ID identifies you as a unique user on DMR radio networks and repeater systems.
Time Slots:
DMR systems divide a frequency into two Time Slots creating two logical channels. Each time slot can carry a different conversation at the same time. These are referred to as Timeslot 0 and Timeslot 1.
Color Codes:
DMR uses a component called Color Codes. Color Codes are very similar to the CTCSS or PL tones used on analog repeaters. You will need to get the appropriate Color Codes from the club or repeater owner running a DMR system to access the repeater. Without the correct Color Code, you will not be able to access the repeater.
Talkgroups:
Talkgroups are a way of organizing radio traffic on the DMR network. As an example, unique talk groups can be created for countries, states, regions, or cities. Talkgroups have been created for interests such as technology and off-roading.
Codeplug:
A code plug is a software file that tells your radio what to do and how to operate. Creating a custom code plug for your radio is a learning experience coming from a world of analog radio. Enlisting the help of an experienced DMR user may be a big help.
Cross Roads Ham Radio Club DMR Repeater Paramters
| | | | | |
| --- | --- | --- | --- | --- |
| Location | Frequency | Offset | Mode | Color Code |
| Edna, TX | 444.050 MHz | +5 MHz | DMR | CC7 |
Timeslot
Talkgroup Name
DMR Server
Talkgroup ID
Notes
TS1
Lone Star Texas
C-Bridge
3148
Connected full time
TS1
Texas Chat
Brandmeister
31480
PTT – 15 minute time out
TS1
North Texas
Brandmeister
31481
PTT – 15 minute time out
TS1
South Texas
Brandmeister
31482
Connected full time
TS1
West Texas
Brandmeister
31483
PTT – 15 minute time out
TS1
S. East Texas
Brandmeister
31484
PTT – 15 minute time out
TS2
Local Repeater Chat
2
Connected full time
TS2
CRHRC VHF Analog Link
AllStar VHF Hub
11
Connected full time
(disconnects TG 33 for 10 min)
TS2
Extended Area Chat
50
Connected full time
Local Repeater Chat (TG 2) allows you to communicate with other DMR users within range of the CRHRC DMR Repeater.
CRHRC VHF Analog Link (TG 11) connects you to all systems currently linked to the CRHRC VHF Hub.
CRHRC UHF Analog Link (TG 33) connects you to all systems currently linked to the CRHRC UHF Hub.
PTT means when you transmit that specific Talkgroup, it is dynamically enabled through the repeater. After a given time of no activity, the Talkgroup is disconnected.
Additional DMR Resources