Repeater Database
| City | County | Call Sign | MHz | Offset | Mode | Bandwidth | PL / Color | Notes | Updated |
| --- | --- | --- | --- | --- | --- | --- | --- | --- | --- |
| Edna | Jackson | W5LCR | 145.330 | - 600 khz | Analog | Wide | 103.5 | Linked to CRHRC - HUB AllStar 28528, EchoLink W5LCR-L | 01/01/1970 |
| Edna | Jackson | W5LCR | 444.500 | + 5.00 mhz | Analog | Wide | 103.5 | Linked to CRHRC | 01/01/1970 |
| Edna - DMR | Jackson | W5LCR | 444.050 | + 5.00 mhz | DMR | Narrow | CC7 | Not Linked - Digital / DMR Repeater | 08/06/2023 |
| Edna - Local | Jackson | W5LCR | 444.050 | + 5.00 mhz | Analog | Wide | 103.5 | Not Linked - PL encode & decode | 07/06/2023 |
| Louise | Wharton | W5LCR | 147.290 | + 600 khz | Analog | Wide | 127.3 | Linked to CRHRC | 01/01/1970 |
| Louise | Wharton | W5LCR | 444.925 | + 5.00 mhz | Analog | Wide | 127.3 | Linked to CRHRC | 01/06/2022 |
| Angelton | Brazoria | KE5WFD | 442.300 | + 5.00 mhz | Analog | Wide | 127.3 | Linked to CRHRC (member owned) | 01/01/1970 |
| Bay City | Matagorda | W5WTM | 444.700 | + 5.00 mhz | Analog | Wide | 146.2 | Linked to CRHRC (member owned) | 01/01/1970 |
| Houston | Harris | KD5HKQ | 147.240 | + 600 khz | Analog | Wide | 127.3 | Linked to CRHRC (member owned) | 07/09/2023 |
| Pasadena | Harris | KD5HKQ | 443.375 | + 5.00 mhz | Analog | Wide | 103.5 | Linked to CRHRC (member owned) | 01/01/1970 |
| Port Arthur | Jefferson | KG5HFL | 147.360 | + 600 khz | Analog | Wide | 127.3 | Linked to CRHRC (member owned) | 07/09/2023 |
| Port O'Connor | Calhoun | W5LCR | 444.650 | + 5.00 mhz | Analog | Wide | 103.5 | Linked to CRHRC | 01/01/1970 |
| Shiner | Lavaca | W5LCR | 147.060 | + 600 khz | Analog | Wide | 162.2 | Linked to CRHRC | 01/01/1970 |
| Sweet Home | Lavaca | K5SOI | 442.050 | + 5.00 mhz | Analog | Wide | 103.5 | Linked to CRHRC (member owned) | 01/01/1970 |
| Wharton | Wharton | W5LCR | 145.430 | - 600 khz | Analog | Wide | 127.3 | Linked to CRHRC | 01/01/1970 |
Please provide repeater updates to info@crhrc.org
Click the map on the right for a reference to the linked repeater system coverage along the central and upper Texas Gulf Coast.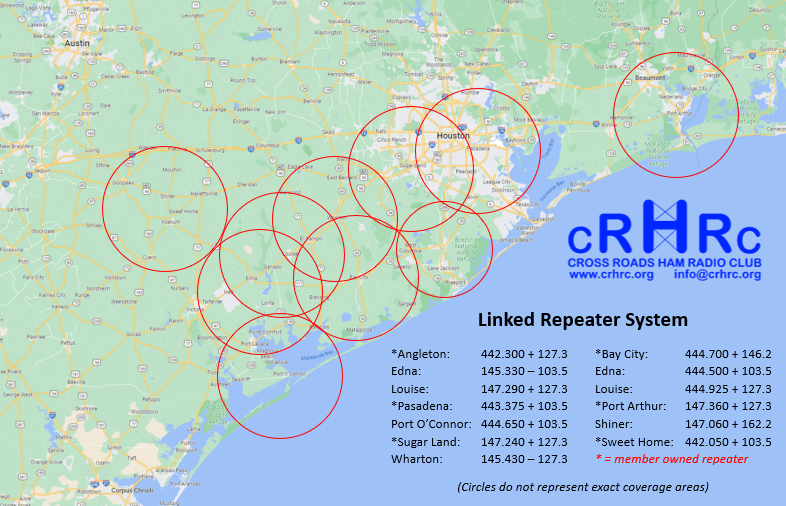 Repeater Technologies and Features
AllStar – AllStarLink is a network of Amateur Radio repeaters, remote base stations and hot spots accessible to each other via Voice over Internet Protocol. Visit our AllStar page for additional details and resources on AllStar.
Analog FM – Analog FM is the most commonly used for 2m VHF and 70cm UHF bands. Most repeaters require a specific sub audible tone (also called a PL Tone) to access the repeater. For these repeaters, you will need to set your radio to TX or encode the specific tone to use the repeater. Setting your radio to receive or decode the tone will enable it to ignore signals from other repeaters.
DMR – (Digital Mode Radio) DMR adds several new terms including Internet Links, Color Codes, Time Slots, Zones, Talk Groups, Code Plugs and Hot Spots. There is a bit of a learning curve mastering DMR but it opens an exciting new mode to your portable, mobile and base station communications. Visit our DMR page for additional information on DMR Technology.
Dual Mode (Analog / Digital) Repeaters – Dual mode repeaters are designed to handle both digital and analog FM communications. Users wishing to use the analog mode only should program their radio to use the analog PL tone to encode and decode in order to eliminate the digital sounds that will be heard from the repeater during a digital communication.

EchoLink – EchoLink is software for your smartphone or computer that allows you to connect to EchoLink stations around the world, including Cross Roads Ham Radio Club. See our EchoLink page for additional information on EchoLink.
---