Cross Roads Ham Radio Club Fundraising Raffle
We are thrilled to announce that Cross Roads Ham Radio Club *has obtained approval* (pending) to deploy two additional repeaters to our Linked Repeater system. These repeaters will be deployed in the Port O'Connor, TX and Wharton, TX areas.
In addition to the new repeaters, CRHRC will also be assisting with the deployment and administration of a member owned GMRS repeater being installed at the Port O'Connor site.
CRHRC has created a fundraising raffle to assist with the financial needs for equipment and ongoing maintenance of these projects and the existing repeater network.
The Kenwood TM-V71A is a true dual band operation Amateur Radio so VHF+VHF/VHF+UHF/UHF+UHF operation is possible. The detachable control head is easily connected with the optional remote cable. Features:
1000 Alpha memories
Dual receive on same band
Wideband Receive
Cross Band Repeat
Remote Head
Dual Display
and more…
The raffle drawing for the Kenwood TM-V71A will be held during the CRHRC breakfast gathering on [November 19, 2022]. You need not be present to win.
Tickets are available to the general public and may be purchased in the following increments:
$25 for one raffle ticket
$50 for two raffle tickets
$75 for three raffle tickets
$100 for five raffle tickets
$125 for seven raffle tickets
$150 for nine raffle tickets
$175 for 11 raffle tickets
$200 for 15 raffle tickets
$250 for 25 raffle tickets
You may enter the raffle using the PayPal button below.
Enter the dollar amount from the list above for the number of tickets you wish to purchase.

Please be sure to enter your name and telephone contact number on your PayPal transaction. This information will only be used to contact raffle winners.
>> THERE WILL BE A PAYPAL BUTTON HERE THAT LOADS THE SCREEN BELOW <<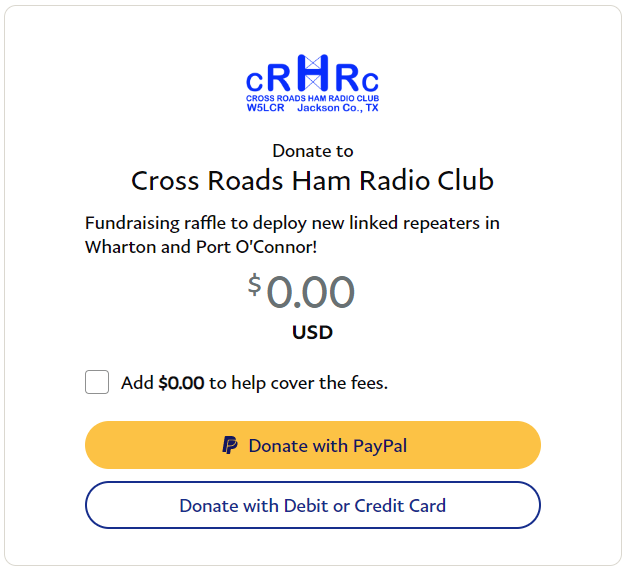 >> Upon successful completion of the transaction, the donor will be redirected to the Raffle Confirmation page (click to view) <<